Harrington Wins in Playoff

(As reported by Ron Green Jr., The Charlotte Observer)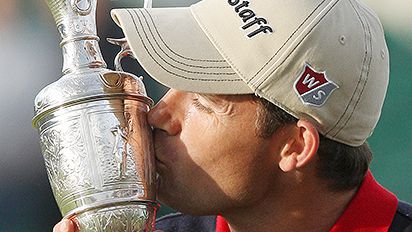 As Padraig Harrington sat watching as Sergio Garcia tried to win the British Open, the Irishman turned down the volume on the television and thought about what could be rather than what might have been.
A lifetime of dreams and an afternoon of remarkable drama were wrapped in the moment as Harrington watched, trying not to allow the double-bogey he had just made on the 72nd hole to begin eating a hole in his stomach.
It didn't matter it had been 60 years since an Irishman had won the Open or eight years since a European had won a major. As Harrington sat there, having rekindled memories of Jean Van de Velde in the way he chopped up Carnoustie's closing hole with the Open lead, he wanted to believe he would have another chance.
When Garcia, desperately seeking his own golden moment, saw his 8-foot putt to win kiss the left edge of the hole and stay out, Harrington's hope was rewarded.
Harrington birdied the first extra hole to gain a two-stroke advantage over Garcia and went on to win the four-hole playoff by one shot, capturing his first major championship.
"I never let myself feel like I'd lost The Open Championship," said Harrington, who had played 23 consecutive holes without a bogey before his double at the 18th in regulation.
"I never let it sink into my head that I'd just thrown away the Open Championship. If I had thrown away the Open, it would've been incredibly hard to take."